Company
Japan's leading aerial survey aircraft operator
Kyoritsu Air Survey was founded in 1972 when the flight operation divisions of four major aerial survey companies were spun off from their parent companies and combined into a single company specializing in aerial photography. Over the 50 years since our founding, and guided by our motto of "safety first," we at Kyoritsu Air Survey have been dedicated to building a business that strengthens the foundation of our society.
Our Company Motto
Safety First
Since our founding in 1972, Kyoritsu Air Survey has kept watch over the ground from our workplace in the sky. Over that time, the aircraft and cameras we use have become more sophisticated and complex. But even as the world around us changes at a dizzying pace, the one thing that remains constant is our dedication to safety. We will continue as we always have to take to the eternal sky guided by our motto of "safety first."
Corporate Vision
Conveying the pulse of the ground from the sky above now and forever!
Founded in 1972, Kyoritsu Air Survey will soon celebrate its 50th year. Over that time, we have observed all kinds of changes on earth through our aerial surveys of its surface. And these changes have occurred not just in topography, they have occurred everywhere: to buildings and other manmade things, to the environment—including changes to the forests that absorb CO2—and to the surface of our planet after natural disasters. We have been and will continue to be professionals at observing the ground from the sky.
Corporate Information
Company name
Kyoritsu Air Survey Co., Ltd.
Date of
establishment
February 23, 1972
Paid-in capital
JPY 66.2 million
Chairman
Taketoshi Taira
President and
CEO
Kazunori Maeda
Directors
Total 7 people including Yuji Hosoi, Toshiaki Kubota, and Katsuhiro Suzuki
No. of
employees
90 (As of September 1, 2021)
Business
categories
Vertical and oblique aerial photographs, survey and research flights, aircraft operation and maintenance services
Licenses (Date of acquisition)

MLIT JCAB No 638 (Sept. 27, 1972)

MLIT Surveyor Registration No. (4)28902(Sept. 10, 2018)

Approved by MLIT as a facility for aircraft maintenance, No. 242 (Aug. 8, 2019)

MIC Radio station inspection company permit No 0040(Mar. 18, 2008)

METI Aircraft Repair Business Permit, Tokyo No 119(Oct. 11, 2017)

METI Aircraft Repair Business Permit, Osaka No 120(Oct. 11, 2017)

No. of national
license holders
34 pilots, 26 mechanics, and 20 camera operators (7 surveyors, 13 assistant surveyors)
(As of September 1, 2021)
Shareholders
Kokusai Kogyo Co., Ltd.
PASCO Corporation
Hasshu Co., Ltd.
Higashi-Nihon Sogo Keikaku, Co., Ltd.
Resona Bank, Limited
Tokio Marine & Nichido Fire Insurance Co., Ltd.
Sompo Japan Insurance Inc.
Airport Facilities Co., Ltd.
etc.
Main financing
banks
Mizuho Bank, Shinjuku Nishiguchi Branch
MUFG Bank, Chofu Branch
Resona Bank, Toranomon Branch
History
1972

February 1972: Kyoritsu Air Survey, Japan's first aerial survey company, begins operation

---

Feb.

Kyoritsu Air Survey is established with a capital of 50 million yen.

(Kyoritsu is initially co-established by Japan's four major air survey companies: Kokusai Kogyo, PASCO, Hasshu, and Tohoku Sokuryo. When Tohoku Sokuryo withdraws, the flight operation divisions of the remaining three are spun off from their parent companies and combined into a single company specializing in aerial photography.)

Apr.
The company starts operation. Kanto Operation Center opens at Chofu Airport, and Kansai Operation Center opens at Yao Airport.
1974
Jul.
Tohoku Operation Center opens at Sendai Airport.
1978
Apr.
Kyusyu Operation Center opens at Kumamoto Airport.
1979
Jun.
Sapporo Operation Center opens at Sapporo Okadama Airport.
1986
Apr.
Kyoritsu incorporates the flight division of Higashi-Nihon Koku (now, Higashi-Nihon Sogo Keikaku, Co., Ltd.), which is spun off from the parent company.
May.
The company's capital increased to 66.2 million yen.

November 1989: Kyoritsu acquires first Cessna 208 Caravan, the backbone of the company's aerial survey fleet

May 1990: Chofu Airport photograph with an analog camera.

1993
Apr.
Nagoya Operation Center opens at Nagoya Airport.
1998
Feb.
Matsuyama Operation Center opens at Matsuyama Airport.
2001
Oct.
New hanger and head office building open at Chofu Airport.

October 2001: New company office building and hangar at Chofu Airport

Nov.
Corporate headquarters and Kanto Operation Center moved to the head office building at Chofu Airport.
2002
May.
Fukuoka Operation center opens.
2003
Oct.
Hiroshima Office opens at Hiroshima-Nishi Airport.
Kitakyushu Office opens at Kitakyushu Airport.
Nov.
Kyoritsu acquires 100% ownership of Phototechno Co., Ltd. to make it a wholly owned subsidiary.
2004
Oct.
Tohoku Operation Center renamed to Sendai Office; Kyusyu Operation Center renamed to Kumamoto Office.
Dec.
Matsuyama Operation Center closed and merged into Hiroshima Office.
2006
May.
Nagoya Office opens a new hanger and office building at Nagoya Airport.
2007
Dec.
Kitakyushu Office opens a new hanger and office building at Kitakyushu Airport.
2008
Mar.
Kumamoto office closed and merged into Kitakyushu Office.
2010
Apr.
Kanto Office renamed to Overall Control Division.
Fukuoka Office closed and merged into Kitakyushu Office.
Jun.
Kyoritsu becomes the first private company to be contracted to operate Kunikaze III, a survey aircraft belonging to the Geospatial Information Authority of Japan (GSI).
2011
Mar.
Our Sendai Facility was affected by the Great East Japan Earthquake.
Two Cessna 208 "Caravan" aircraft were swept up by the Tsunami.

March 2011: A cut model of the cockpit equipped in the damaged aircraft (JA8897) is displayed in the lobby of the head office in Chofu, Tokyo in order to tell for posterity that the 2011 East Japan Great Earthquake and Tsunami caused tremendous damage to us.

2012
Feb.
Kyoritsu adopts its first digital camera, UltraCam D.

February 2012: Kyoritsu introduces first digital cameras for aerial survey use

Apr.
Sendai Office moved inside the Small Aircraft Hangar No.1 of Airport Facilities Co., Ltd.
Nov.
Hiroshima Office closed as Hiroshima-Nishi Airport becomes a heliport.
2013
Jun.
Kyoritsu becomes the second company in Japan to receive the IS-BAO certification from the International Business Aviation Council (IBAC).
2015

March 2015: The use of analog cameras, which had built the foundation of aerial survey photography, come to an end

---

Dec.
Kansai Office opens a new hanger and office building at Yao Airport.

December 2015: New Kansai business office and hangar

2019
Apr.
Geospatial Information Authority of Japan (GSI) contracts Kyoritsu Aerial Survey to perform aerial gravimetry surveys.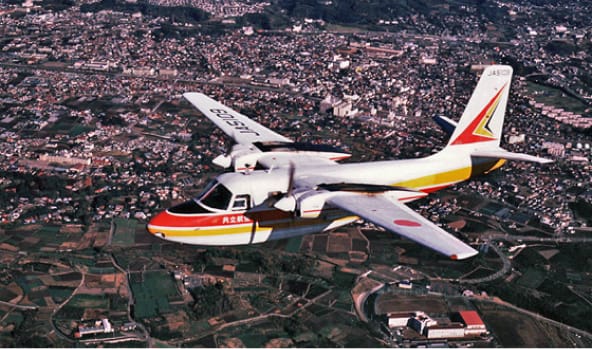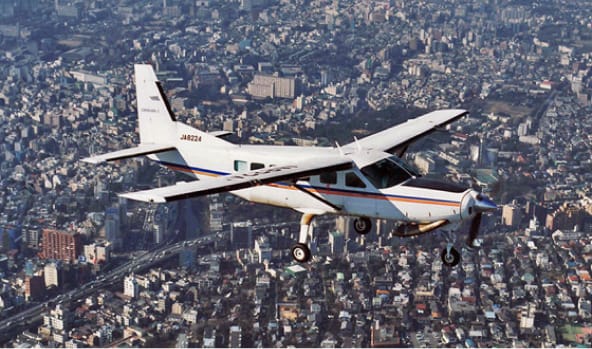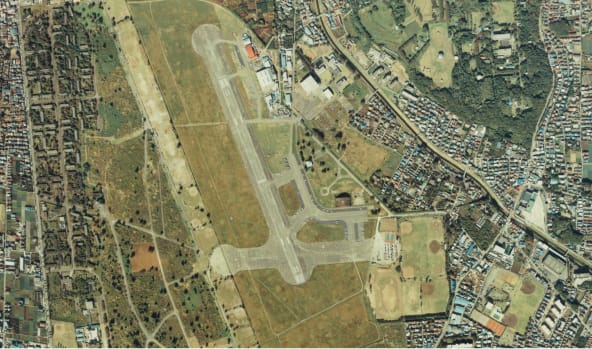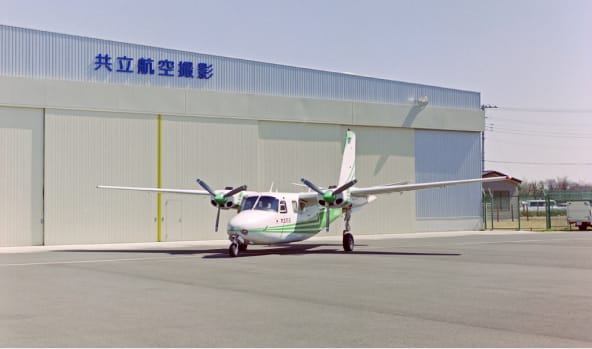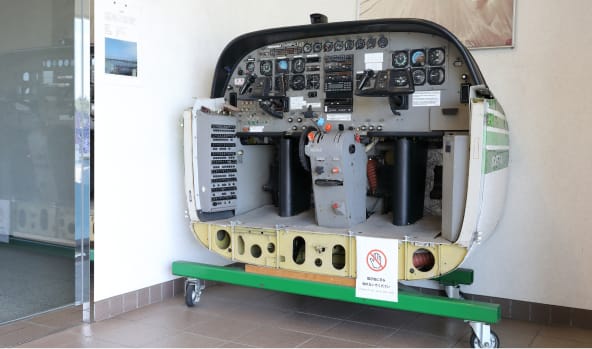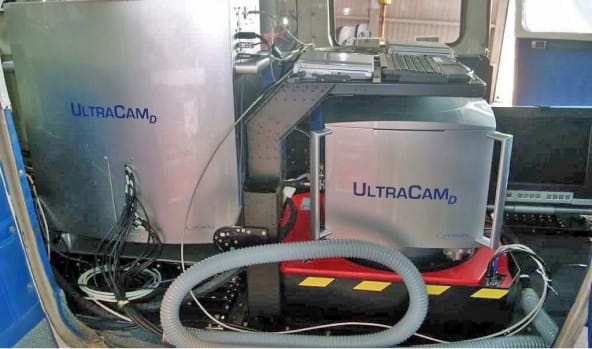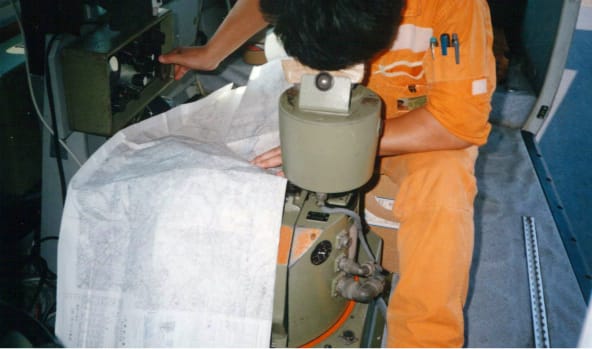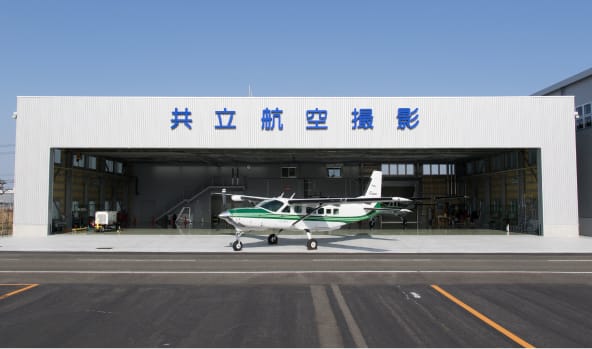 Safety Initiatives
Our company-wide commitment to raising safety awareness not only ensures the safety of our employees, it is also how we earn the trust of the local community and our clients.
Flight Safety
Guided by our motto of "safety first," Kyoritsu Air Survey engages in all kinds of safety promotion activities, including activities that maintain and deepen employee safety awareness and setting annual safety goals and priorities.
2021 company-wide safety goals

Maintain a perfect zero score for flight accidents
and
major incidents
2021 priority goals

Prevent the recurrence of the
same type of hazards and risks
in accordance with the HITS*
Double-check fundamental and
basic actions
Awareness and
assertion-based
risk
management
* In accordance with the International Standard for Business Aircraft Operations established by the International Business Aviation Council, Kyoritsu Air Survey continuously operates a Hazard Identification and Tracking System (HITS) in order to collect data on hazards and risks that occur during daily operation and to practice scientifically based risk management.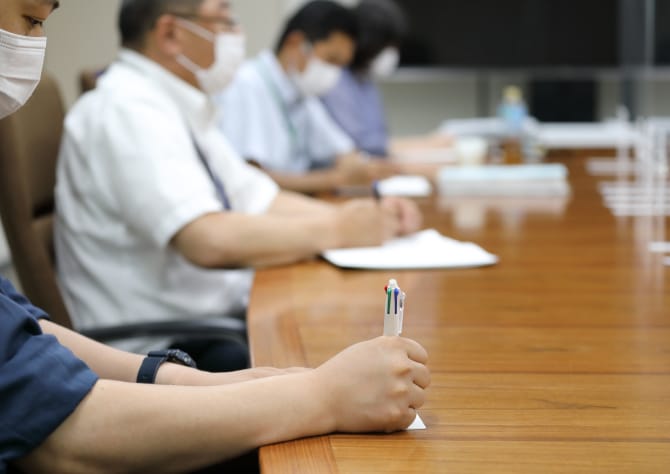 Safety awareness enhancement activities
Led by our workplace safety promotion personnel, a workplace safety meeting is conducted once a month at each business division and branch office to ensure that we meet our safety and priority goals and to review HITS data. Additionally, as part of our safety awareness activities, every six months all members of management and the safety promotion office manager take part in a safety promotion activities progress report meeting whose agenda includes presenting a safety action plan covering the latest period and the next period.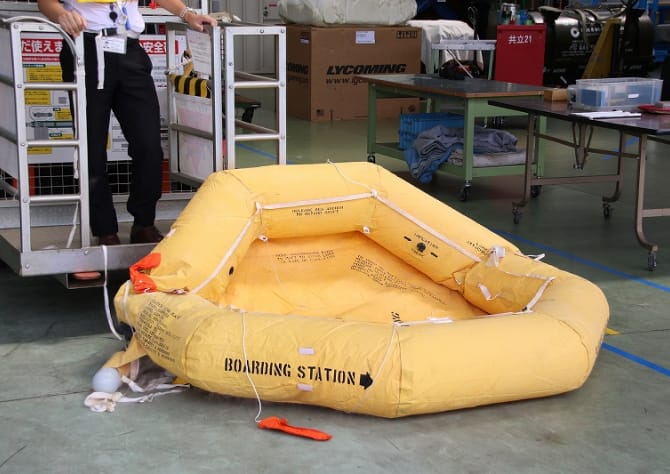 Emergency response training
With an emphasis on flight accidents, the entire company takes part in emergency response training that simulate the conditions of a real accident. The training confirms whether we can respond properly and rapidly to a flight emergency and provides an opportunity to uncover problems and devise ways to eliminate them.
Labor Safety and Health
n line with the Industrial Safety and Health Act, Kyoritsu Air Survey has established a health committee to smoothly coordinate the company's health management efforts.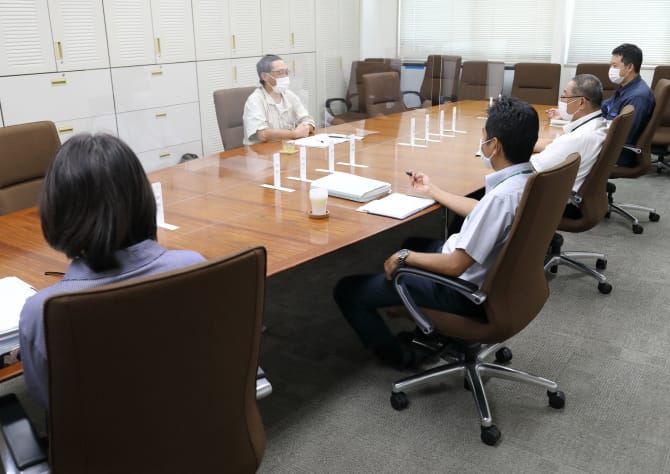 Company health committee
The health committee discusses issues related to employee health and distributes a summary of the proceedings to employees.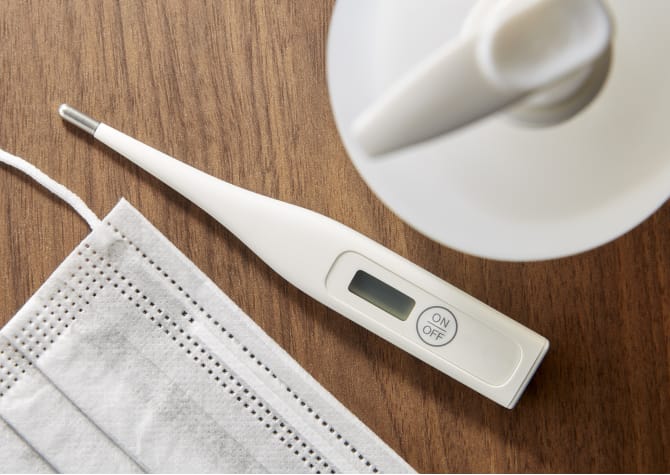 Coronavirus pandemic countermeasures
To ensure the safety and health of our employees, Kyoritsu Air Survey issues restricted notifications and provides information about new work procedures to all managers and employees.
Information Security
The measures that companies need to put in place to protect their information changes every day in step with the increasing importance of information technology in daily life. With this in mind, Kyoritsu Air Survey has established an information management department responsible for establishing information management rules and for protecting, handling, and managing internal and external company information, personal information, and information handled by digital devices.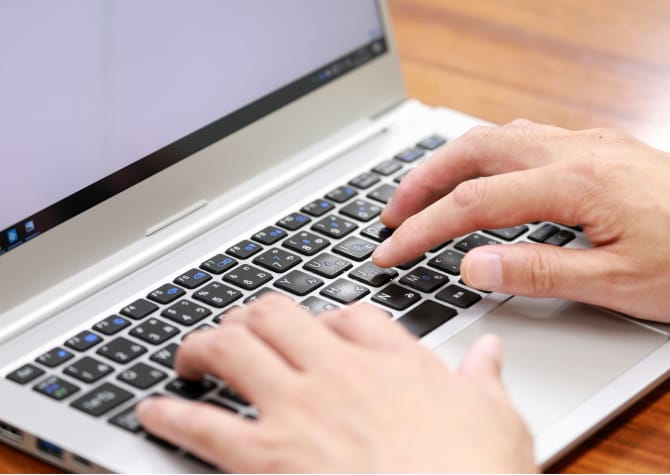 Information management
Newly implemented information security measures and timely notifying employees about suspicious information help safeguard our company against malicious cybercrimes and leaked information.
Periodic information security assessments
We conduct periodic inspections based on our information management rules. Inspections verify the operation and inventory of software and digital equipment and make sure that our network is secure and safe.